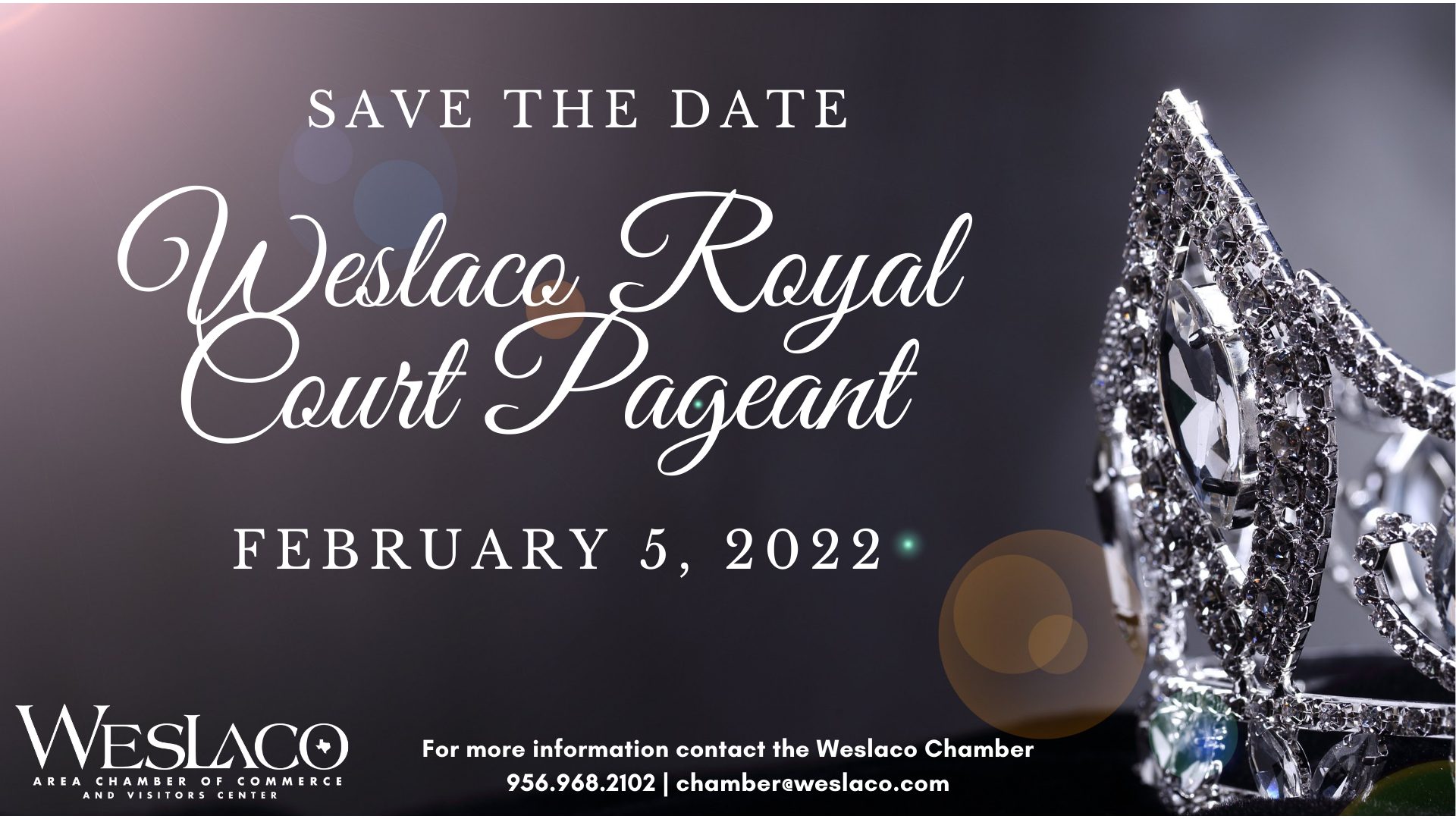 The Weslaco Area Chamber of Commerce began the Miss Weslaco Pageant in 1956 and has continued the tradition.  The pageant was organized by different production companies over the years, however is now back under the full coordination of the Weslaco Chamber. The pageant now called the Weslaco Royal Pageant is a long-standing initiative and community wide event to support the personal growth and leadership development of our youth.
The initiative is widely supported by chamber members and businesses alike. This competition represents not only beauty and grace, but intelligence, leadership and effective communication skills.
Participants selected to represent Weslaco Royal titles will be a part of the Weslaco Royal Court and represent the Weslaco Chamber and City of Weslaco at events and programs across the community and Rio Grande Valley!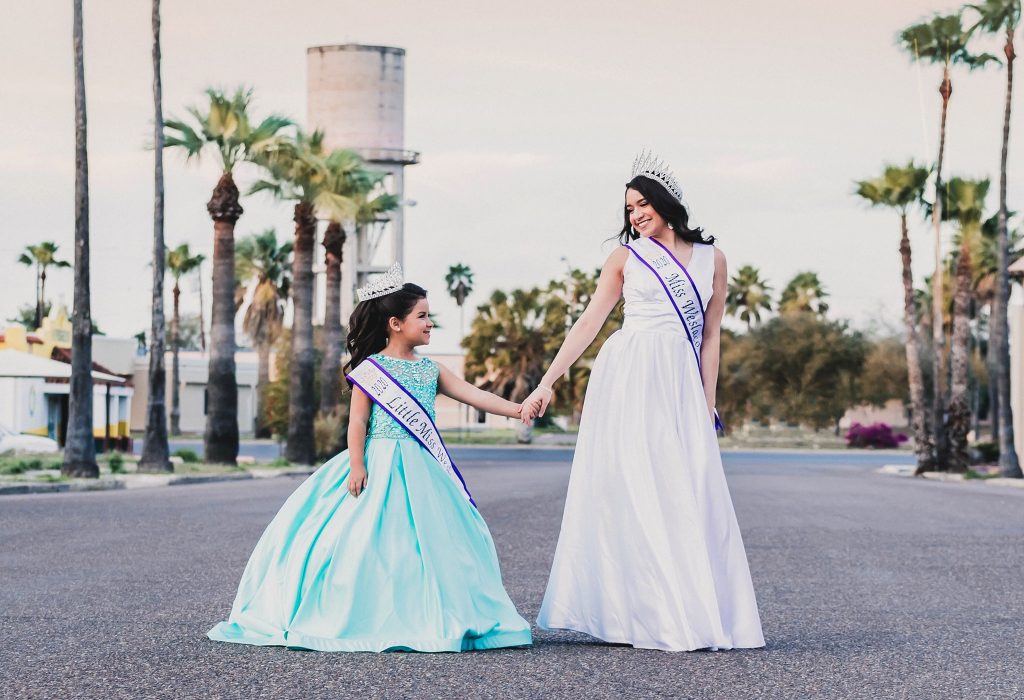 About the Weslaco Pageant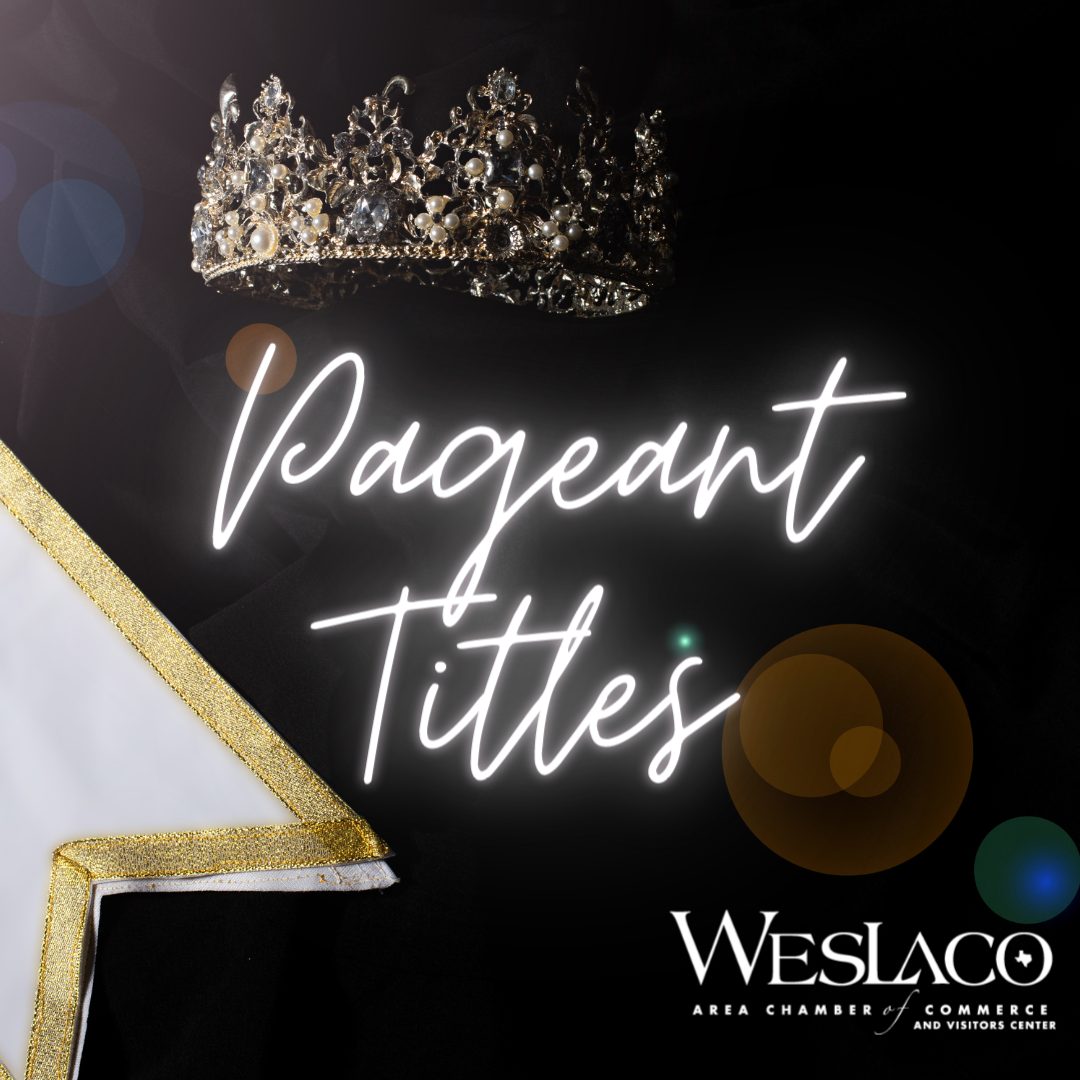 The 2022 pageant titles are outlined below with eligibility criteria
Little Miss Weslaco
Must be in 1st grade
Reside in Weslaco for a minimum of 1 year
Attend school in Weslaco
Junior Miss Weslaco **New Category
Must be in 6th, 7th, or 8th grade
Reside in Weslaco for a minimum of 1 year
Attend school in Weslaco
Miss Weslaco
Must be a sophomore or junior in high school
Reside in Weslaco for a minimum of 1 year
Attend school in Weslaco
Mr. Weslaco
Must be a sophomore or junior in high school
Reside in Weslaco for a minimum of 1 year
Attend school in Weslaco
Miss Texas Onion Fest
Please note that the first runner up in the Miss Weslaco category will assume the title and responsibilities of Miss Texas Onion fest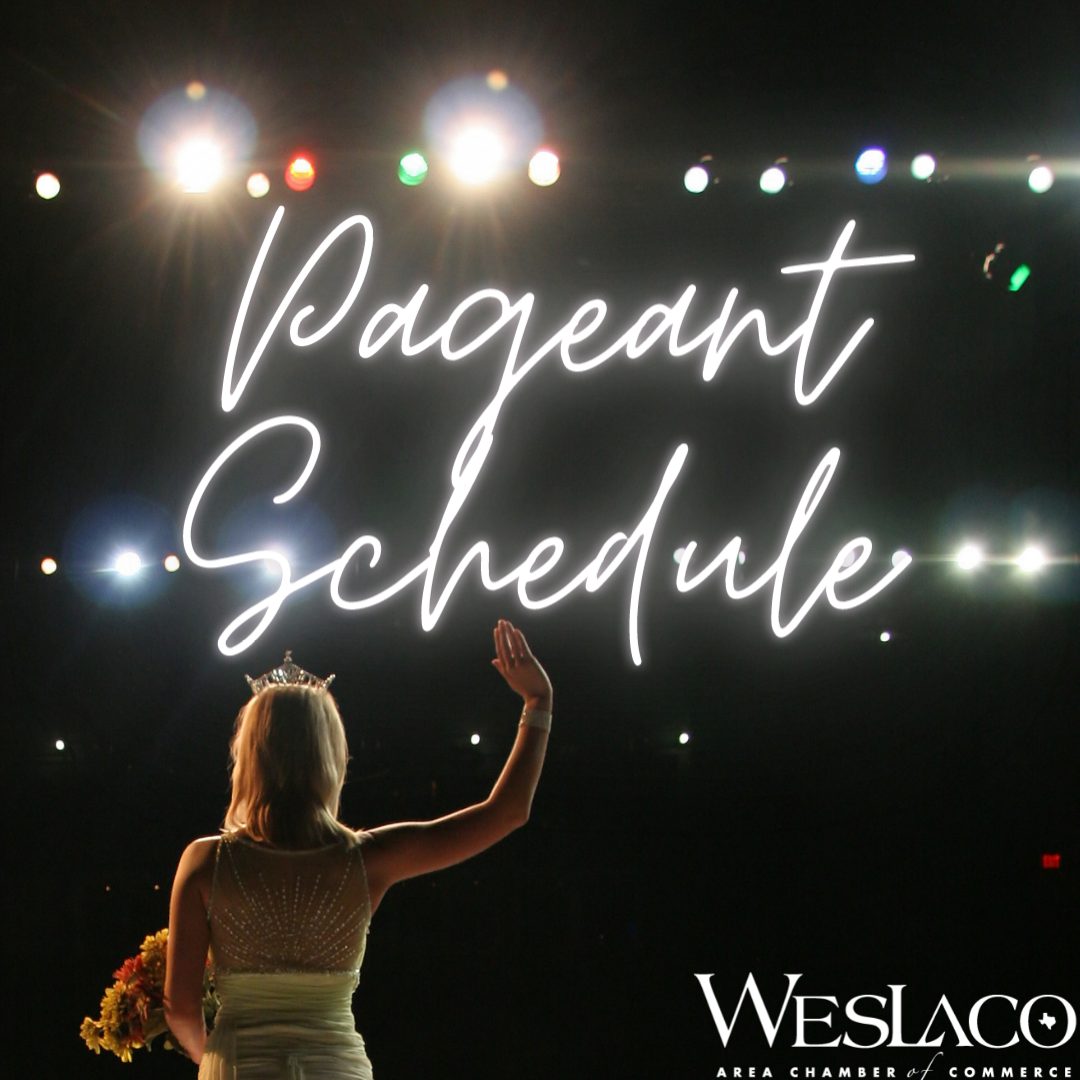 Upcoming Deadlines & Important Dates
Application Deadline: January 5, 2022, 5PM --- APPLICATION EXTENDED TO JANUARY 7, 2022 5PM
Mandatory Orientation: Saturday, January 15, 2022-9AM-12PM, Weslaco Chamber

We will be taking headshots on this date, girls will be asked to wear a black top with a pearl necklace or earrings for the headshot and boys a black button up.
Participants will also be asked to turn in their Bio (check your email for details on this or contact the chamber)

Enrichment Program: Sunday, January 16, 2022-11AM-2PM, Weslaco Chamber

Lunch Provided (Parents can purchase a lunch ticket $15 to attend, pay on site or register and pay online
Dress code: Sunday's Best Attire

Deadline to purchase Ad in event program: January 21, 2022
Interviews: Saturday, January 22, 2022- 9AM-2PM, Weslaco Chamber of Commerce
Opening Number Practice:

Friday, January 21, 2022, 5PM at Just Move studio, 159 S Border Ave, Weslaco TX 78596
Friday, January 28, 2022, 5PM at Just Move studio

Rehearsal Date: Thursday, February 3, 2022- 6PM, Weslaco PAC
Pageant Date: Saturday, February 5, 2022- 3PM, Weslaco PAC
We have partnered with chamber member Just Move Dance Studio, who will be coordinating the opening number for the pageant! More information coming soon on rehearsals with the studio.  Please note these dates may be outside those listed above.
***Dates are subject to change, please be advised that we are closely monitoring the increase of COVID cases in Hidalgo County and as we have every intention to move forward with this program, we will make every consideration to keep our participants, their families and all our guests safe.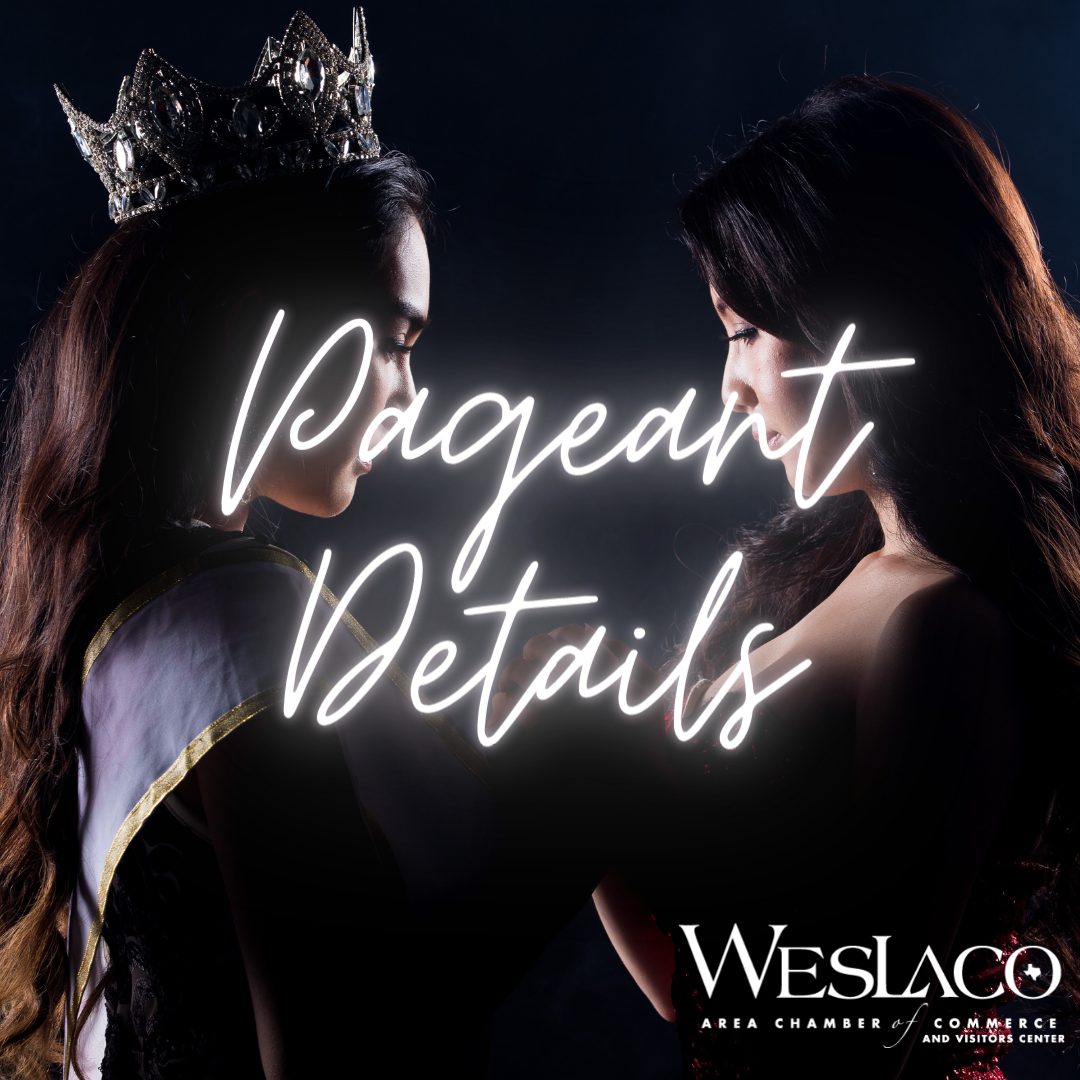 Planning for the Pageant!
Here are some helpful tips/details for your you as you prepare for the pageant.
Call the chamber (965-968-2102) to ensure your application has been received and is complete and that have been added to the competition roster!
Areas of Competition:

Personal Introductions
Fashion Wear Competition
Fishbowl Questions (All Contestants)
Formal Wear Competition
Finalist Questions (only Miss/Mr Weslaco)

Create a short bio for the contestant.  This bio should share positive highlights about the contestant including what school they attend, any programs they are a part of .  Make sure to include the contestant name and parents/guardians names in the bio as well! Due January 15th at orientation event.
Award Categories:

Miss Congeniality
Most Photogenic
Best Interview
People's Choice (votes will take place at the pageant)
Best Dress (all female categories)
Best Fashion Wear
Best Dressed (Mr.Weslaco)

Purchase an Ad to be featured in the Event Program (Deadline January 21, 2022 5PM) Contact the chamber for information.
Pre-purchase Extra event tickets for the event online by visiting weslaco.com, event entry is $10 (each contestant will receive 2 tickets)
Prepare for the personal interview details to be provided at orientation
Pageant Theme is inspired by the movie The Greatest Showman!
Masks, at this time we will be requiring Masks at this event.  We encourage participants to wear a mask that matches their outfit!
Pageant Contact
Weslaco Area Chamber of Commerce
956.968.2102
chamber@weslaco.com