Weslaco is a dynamic growing city with easy transportation, plenty of shops, restaurants, and cultural arts. Need help planning your visit? Check out our directory, and customized itineraries for some ideas!
Take a look at the great things happening in and around our community!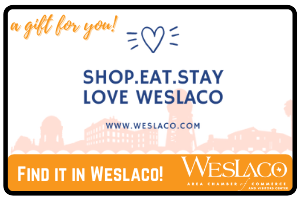 Weslaco Gift Card
Have you heard of our new Weslaco Community Gift Card Program? It is a new initiative of the Weslaco Chamber to support local business.
It is an eGift Card that can be used wherever you might use a gift card, but instead of national brands, it works in our local shops and restaurants in the area. The Cards only work at participating merchants, i.e. those who opt-in (free). Help us grow the number of participating businesses!!
To purchase a Gift Card click here: Weslaco Gift Card
Learn more here: (scroll to the bottom and click apply to join)